Focusing on Yangtze River Delta and Having a Overall Layout in China
Release time:2016-07-27 Content source:
After opening stores in Nanjing and Shanghai successfully, Brookstone, the largest retailer with the new novelty in the world, will enter into Suzhou. On August 5th , Hisap Brookstone will open a store in IN CITY in Suzhou which is the first store that it will open here.
Opening a store in Suzhou not only marks an expansion around China but also shows the long-term strategic objective to focus on Yangtze River Delta and have an overall layout in China.
Business Mode 4.0 became the transformation model in retail industry and accelerated the expansion step around China
9 million purchase orders on the first opening day in Nanjing flagship store have overturned the traditional impression that the offline store has declined. Moreover, purchase orders in Shanghai store increased to 12 million which made the offline retail industry become confident. As we know, the business Mode 4.0 of Hisap Brookstone has triggered a heated discussion in the retail industry about whether the business mode 4.0 represented by Hisap Brookstone has come already. And some experts in retail industry called Hisap Brookstone as the symbol of Chinese retail industry transformation.
With the opening of Suzhou store, Hisap Brookstone has comprehensively sped up the transformation of Business Mode 4.0 to promote the strategic transformation in products, stores, services, professional ability and omni-channel thoroughly. As it is stated, the opening of stores in Shanghai and Suzhou is only the beginning of the overall expansion of Hisap Brookstone. Hisap Brookstone is the wholly-owned subsidiary of Hiteker which is a listed company (600122. SH). Its overall expansion plan has been placed as a fundraising plan in Hiteker. In April, Hiteker announced that it will issue share to takeover COUNCIL and issued the plan to raise supporting funds among which 520 million RMB will be used in opening chain stores including over 100 stores in first- and second-tier cities in east, north, southwest, central and southern China.
We will upgrade over 300 stores in China within 2 to 3 years, Xin Kexia who is the CEO of Hiteker said. Focusing on the consumer born in 80s and 85s can bring over 10-year-long growth stage to Hisap Brookstone. Hisap Brookstone is not just a brand which sells the novelty products but also a representative of creative products, supply chain and selling mode.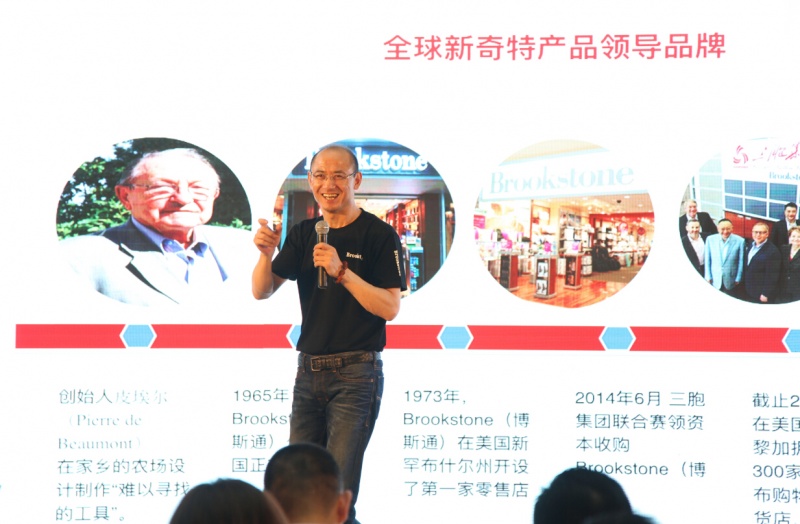 The key points of strategic transformation in Hisap Brookstone are, firstly, to reconstruct the offline value and set up scenario experience, and secondly, to stop selling popular and homogeneous products but introduce new and peculiar products based on strong research and development team and integrated supply chain, Xin Kexia said.
The opening of Hisap Brookstone store in Suzhou is a crucial step of Hisap which is the wholly-owned subsidiary of Hiteker to achieve an overall transformation in a faster speed as well as a strong support to promote Chinese retail industry to enter into the Business Mode 4.0 time.