Introducing New Selling Method Hisap , Brookstone Steps into Experience Era 2.0
Release time:2016-06-23 Content source:
Since the comprehensive strategic transformation, Hisap has transformed gradually from the traditional PCMALL to Hisap Brookstone of 4.0 version. The new selling method emphasizing on experience and interaction upgraded users' experience thoroughly. Hisap Brookstone is always focusing on offering the new novelty to Chinese customers by professional and passionate service, which not only brings fresh shopping experiences for customers but also wins appreciation in the industry.
When consumers came to the store of Hisap Brookstone, they were attracted by the display cases integrating innovation, utility, high-tech and fashion. These display cases showed that Hisap Brookstone boasted of creative and fashionable brand image, created the Mode 2.0 and introduced new generations constantly to the market. Recently, Chinese State Intellectual Property Office officially granted Hisap certifications of utility model patent and industrial design patent for some of its display cases which were developed and designed by itself.
The display cases which have won the patent certifications are macro-platform, cat ear headphone cabinet, UAV(Unmanned Aerial Vehicle)cabinet and sand cabinet. The macro-platform as the key display case which is a circle formed with two semiarcs has an appearance that overturns the traditional design conception.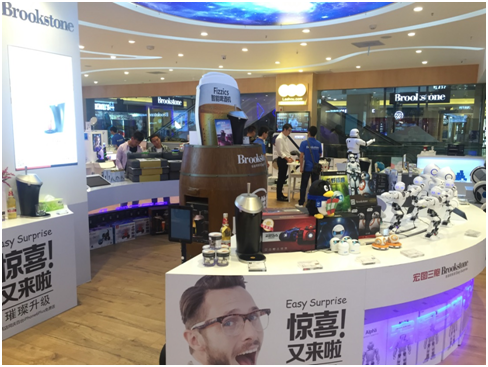 The display case in the store is full of the feeling of fashion and high-tech as well as the feeling of humanization. The interesting sticky sand cabinet which has two platforms with different heights is convenient for parents and children who want to play together. It is convenient for customers to experience the Hisap Brookstone customized products for people in different ages.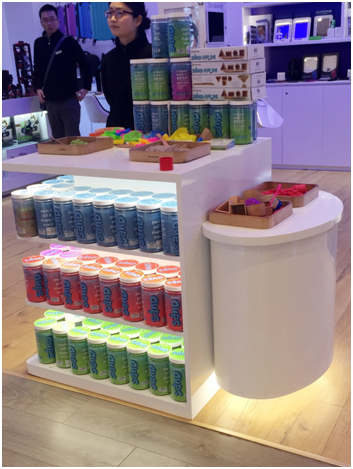 It is known that these display cases which applied for patents have been modified over ten times in order to offer better services and improve customers' degree of satisfaction. Many other display cases in the store are also applying for patents now.